Features
The TWINHAMMER meat pre-massaging unit is composed of two hammers that pound the meat, causing a synergistic effect of stretching the muscle fibers and increasing the interfibrillar free spaces, which provides for a very fast and better retention of the brine in these spaces during the first phases of the massage.
This revolutionary process results in a significant reduction in the total massaging time, and consequently, an increase in the productivity of massaging machines, an increase in cooking yield, a better slicing yield, a visible improvement in the texture of the meat and greater intermuscular binding of cooked meat products processed with this new technology.
Main features
Hydraulic head drive.
Belt feed, ensuring total hammering homogeneity throughout the meat mass
Adjustable hammering intensity, cycles and pressure.
Pre-massage hammers with pyramidal, standard or aggressive tips.
Each of the heads can be independently disabled.
Total recovery of all drained brine.
Maximum easiness of cleaning and maintenance.
The models (standard features)
| | Production capacity |
| --- | --- |
| TWINHAMMER 4500 | 14,000 kg/h |
| TWINHAMMER 5500 | 21,000 kg/h |
TWINHAMMER 4500
Production capacity : 14,000 kg/h
TWINHAMMER 5500
Production capacity : 21,000 kg/h
You may also be interested in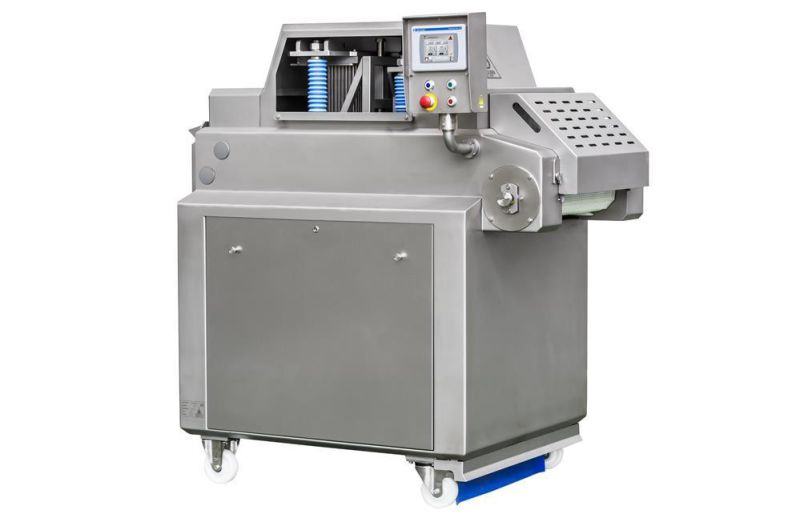 BLADEHAMMER
Pre-massage that provides significant reductions in total processing times
BLADETENDER
Tenderizing heads for high-quality meat pieces and high-yield "cook-in" products