Features
The new MULTIPLUS injectors for marinated products are especially recommended for marinating low-profile fresh meats (chicken parts, bacon, etc.), with a wide range of new features for optimal cost savings and functionality of the marinating line, providing greater injection precision, less dripping loss (better retention), absence of needle marks, as well as top quality and consistency in the fresh marinated product.
Equipped with a spray marinating head with a very high density of needles, controlled by an automatic regulation device in the injection area. The new MULTIPLUS, in addition to other design innovations, provides for a higher injection speed and greater productivity, incorporating an easily interchangeable injection needle plate, meat level sensor for optimal injection performance and precision, with special emphasis on ergonomic, hygienic and safe operation. The MULTIPLUS also incorporates new control and operation possibilities that guarantee constant marinating of unmatched quality throughout the day.
Main features
Easy disassembly of conveyor belt for cleaning.
Optional extended conveyor belt at feed end to allow for manual placement of meat pieces
Optional separators at the input and output zones to facilitate alignment of the pieces.
Brine tank with automatic filter.
Total utilization of all brine.
Maximum easiness of maintenance, cleaning and sanitation.
Controlled by a PLC programmable logic controller.
Automatic cleaning program for the brine circuit.
The models (standard features)
| | Injection points |
| --- | --- |
| MULTIPLUS 360 | 1408 |
| MULTIPLUS 450 | 1936 |
| MULTIPLUS 720 | 2816 |
MULTIPLUS 360
Injection points : 1408
MULTIPLUS 450
Injection points : 1936
MULTIPLUS 720
Injection points : 2816
You may also be interested in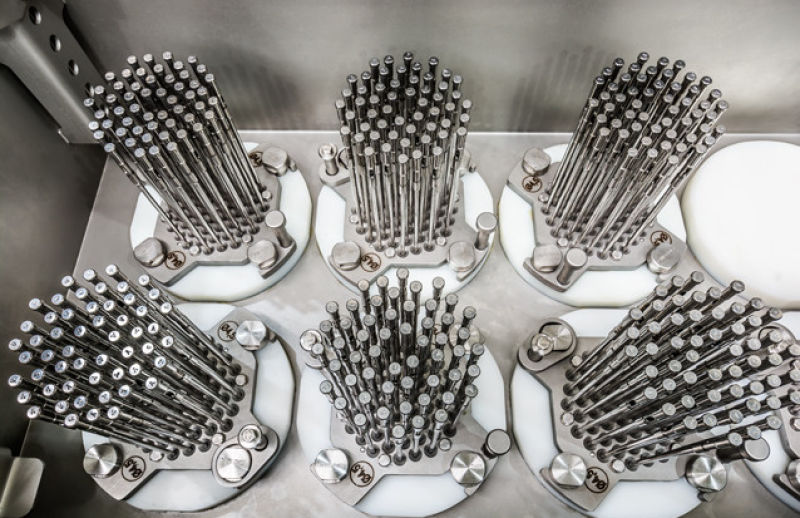 NEEDLECLEAN
Automatic cleaning and sanitation of needles
BACON INJECTOR
Specially designed for the injection of boneless bacon.