Features
The new MOVIPLUS 4.0 version has been specially designed for the cyber-industry of the future, incorporating a smart spray injection system, which provides for obtaining spectacular brine distribution and uniform color, the greatest versatility in injection percentages, minimum dripping loss, the highest productivity rates on the market and the highest final yields with maximum injection precision.
They inject brine, spraying at constant pressure, in any type of boneless meat (pork, beef, poultry, etc ...).
Injection adjustable from 10 to 100% per pass, depending on the model and type of meat.
Optional tenderizer head attached after the second injection head (first head in 120/3000 and 4000 models) and synchronized with the same head with the possibility of adapting different types of blades.
Optional automatic self-cleaning filter, specially designed to work 24 hours nonstop with all types of brines.
Main features
Electro-Hydraulic Operation, controlled by Automaton and touch screen Display.
Increased operating cycles = greater productivity.
Device for selecting injection process: Single or Double Head *
Optimized separation between heads for differential injection.
Cycle-adjustable tenderizer head for maximum protein extraction.
Spray Injection Pressure regulation device.
SPRAYPLUS® technology for distribution optimization (optional).
UP&DOWN system for skin-on products (optional).
For bone-in (CR models) / boneless injection.
Great simplicity of needle extraction for control, cleaning and sanitation.
Totally cutting-edge design for optimal hygiene and food safety.
Flexible Memory Effect needles
Optional accessory: Injection auto-regulation system DYNAMIC INJECT CONTROL
The models (standard features)
| | Injection points | Injection 10% (Up to) | Injection 25% (Up to) | Injection 45% (Up to) | Injection 70% (Up to) | Injection 100% (Up to) |
| --- | --- | --- | --- | --- | --- | --- |
| MOVIPLUS v4.0 120/3000 | 952 | 7,500 kg/h | 7,000 kg/h | 5,800 kg/h | 3,000 kg/h | --- |
| MOVIPLUS v4.0 3000 | 1904 | 8,500 kg/h | 7,800 kg/h | 6,300 kg/h | 3,800 kg/h | 3,200 kg/h |
| MOVIPLUS v4.0 4000 | 1656 | 19,000 kg/h | 17,000 kg/h | 15,000 kg/h | 5,000 kg/h | --- |
| MOVIPLUS v4.0 4500 | 2024 | 10,500 kg/h | 9,500 kg/h | 8,000 kg/h | 5,200 kg/h | 4,000 kg/h |
| MOVIPLUS v4.0 5500 | 3312 | 20,000 kg/h | 19,500 kg/h | 16,000 kg/h | 10,000 kg/h | 8,000 kg/h |
| MOVIPLUS v4.0 120/4000 CL | | | | | | |
| MOVIPLUS v4.0 120/3000 CR | 882 | 7,000 kg/h | 6,800 kg/h | 5,000 kg/h | 2,800 kg/h | --- |
| MOVIPLUS v4.0 3000 CR | 1764 | 8,200 kg/h | 7,800 kg/h | 5,700 kg/h | 3,600 kg/h | 3,000 kg/h |
| MOVIPLUS v4.0 4000 CR | 2088 | 9,800 kg/h | 9,500 kg/h | 6,700 kg/h | 3,600 kg/h | --- |
| MOVIPLUS v4.0 4500 CR | 2436 | 10,200 kg/h | 10,000 kg/h | 7,200 kg/h | 4,600 kg/h | 3,800 kg/h |
| MOVIPLUS v4.0 5500 CR | 4176 | --- | --- | 11,000 kg/h | 9,000 kg/h | 7,000 kg/h |
| MOVIPLUS v4.0 7500 CR | 5328 | --- | --- | 22,000 kg/h | 18,000 kg/h | 13,000 kg/h |
MOVIPLUS v4.0 120/3000
Injection points : 952
Injection 10% (Up to) : 7,500 kg/h
Injection 25% (Up to) : 7,000 kg/h
Injection 45% (Up to) : 5,800 kg/h
Injection 70% (Up to) : 3,000 kg/h
Injection 100% (Up to) : ---
MOVIPLUS v4.0 3000
Injection points : 1904
Injection 10% (Up to) : 8,500 kg/h
Injection 25% (Up to) : 7,800 kg/h
Injection 45% (Up to) : 6,300 kg/h
Injection 70% (Up to) : 3,800 kg/h
Injection 100% (Up to) : 3,200 kg/h
MOVIPLUS v4.0 4000
Injection points : 1656
Injection 10% (Up to) : 19,000 kg/h
Injection 25% (Up to) : 17,000 kg/h
Injection 45% (Up to) : 15,000 kg/h
Injection 70% (Up to) : 5,000 kg/h
Injection 100% (Up to) : ---
MOVIPLUS v4.0 4500
Injection points : 2024
Injection 10% (Up to) : 10,500 kg/h
Injection 25% (Up to) : 9,500 kg/h
Injection 45% (Up to) : 8,000 kg/h
Injection 70% (Up to) : 5,200 kg/h
Injection 100% (Up to) : 4,000 kg/h
MOVIPLUS v4.0 5500
Injection points : 3312
Injection 10% (Up to) : 20,000 kg/h
Injection 25% (Up to) : 19,500 kg/h
Injection 45% (Up to) : 16,000 kg/h
Injection 70% (Up to) : 10,000 kg/h
Injection 100% (Up to) : 8,000 kg/h
MOVIPLUS v4.0 120/4000 CL
Injection points :
Injection 10% (Up to) :
Injection 25% (Up to) :
Injection 45% (Up to) :
Injection 70% (Up to) :
Injection 100% (Up to) :
MOVIPLUS v4.0 120/3000 CR
Injection points : 882
Injection 10% (Up to) : 7,000 kg/h
Injection 25% (Up to) : 6,800 kg/h
Injection 45% (Up to) : 5,000 kg/h
Injection 70% (Up to) : 2,800 kg/h
Injection 100% (Up to) : ---
MOVIPLUS v4.0 3000 CR
Injection points : 1764
Injection 10% (Up to) : 8,200 kg/h
Injection 25% (Up to) : 7,800 kg/h
Injection 45% (Up to) : 5,700 kg/h
Injection 70% (Up to) : 3,600 kg/h
Injection 100% (Up to) : 3,000 kg/h
MOVIPLUS v4.0 4000 CR
Injection points : 2088
Injection 10% (Up to) : 9,800 kg/h
Injection 25% (Up to) : 9,500 kg/h
Injection 45% (Up to) : 6,700 kg/h
Injection 70% (Up to) : 3,600 kg/h
Injection 100% (Up to) : ---
MOVIPLUS v4.0 4500 CR
Injection points : 2436
Injection 10% (Up to) : 10,200 kg/h
Injection 25% (Up to) : 10,000 kg/h
Injection 45% (Up to) : 7,200 kg/h
Injection 70% (Up to) : 4,600 kg/h
Injection 100% (Up to) : 3,800 kg/h
MOVIPLUS v4.0 5500 CR
Injection points : 4176
Injection 10% (Up to) : ---
Injection 25% (Up to) : ---
Injection 45% (Up to) : 11,000 kg/h
Injection 70% (Up to) : 9,000 kg/h
Injection 100% (Up to) : 7,000 kg/h
MOVIPLUS v4.0 7500 CR
Injection points : 5328
Injection 10% (Up to) : ---
Injection 25% (Up to) : ---
Injection 45% (Up to) : 22,000 kg/h
Injection 70% (Up to) : 18,000 kg/h
Injection 100% (Up to) : 13,000 kg/h
You may also be interested in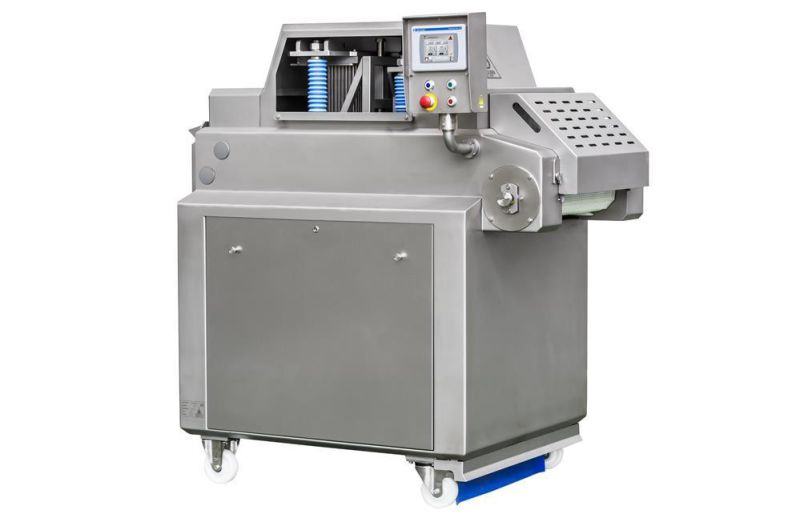 BLADEHAMMER
Pre-massage that provides significant reductions in total processing times
COOKLINE 4.0
Automation and Total 4.0 Connectivity: the Cooking of the Future